Puneet Agrawal, Founder Editor
Puneet is a partner at ALA Legal and his field of specialization is indirect taxes. He has handled matters of clients from diverse industries and has represented them before various courts and tribunals. Puneet has dealt with almost all the VAT laws in India and has argued before number of high courts and tribunals. Currently he is heading GST advisory and litigation services of ALA Legal and is providing services to the largest MNCs and PSUs.
Read More
Puneet has been involved in some of the land mark cases in High Courts and Tribunals – such as
Puneet holds an honours degree in commerce from the Sri Ram College of Commerce, Delhi University. He completed his law from the Delhi University. He has also done Chartered Accountancy and is a member of the Institute of Chartered Accountants of India (ICAI). He was meritorious in Chartered Accountancy and was awarded scholarships by the Institute of Chartered Accountants of India.
Puneet has been actively involved in training and lecturing at various forums of ICAI . He was felicitated by ICAI for "Commendable Contribution to the Profession". He was also awarded as 'Upcoming Speaker' by NIRC of ICAI consecutively for the years 2011-12 and 2012-13. Puneet has been a member of the VAT Study Group and the Service tax study group of the NIRC of ICAI, and also the GST Study Group of the Indirect Taxes Committee of the ICAI.
Read Less
Find Puneet Agrawal on Linked In.
He may be directly contacted at: puneet@alalegal.in; +91-9891898911
Vipan Aggarwal

Vipan is a member of The Institute of Chartered Accountants of India since 1985. He has been instrumental in providing professional services in the field of Auditing, Indirect Taxes, Direct Taxes, International Taxation, Finance & IT Related services and Consultancy for 33 years and counting.He is a regular contributor in the field of Indirect Taxation by way of lectures, discussions, writeups and was also appointed as a member of the VAT committee of NIRC, ICAI.
Purvi Sinha
Purvi is an advocate by profession and has done B.A. LL.B (Hons.) from National University of Study and Research in Law, Ranchi. She has been involved in the matters pertaining to GST law and other indirect tax laws. She has been actively involved in matters before various Hon'ble High Courts and also Hon'ble Supreme Court. She represent Sales Tax Bar Association (Delhi) before Hon'ble Delhi High Court in relation to various issues faced by the tax payers in the GST regime, and have been able to get great reliefs from the Hon'ble Court.
Yuvraj Singh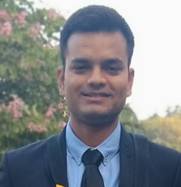 Yuvraj is an advocate and has completed his B.A. LL.B(Hons) from RGNUL-Punjab. He is a practicing advocate and has been involved in matters pertaining to GST and other indirect taxes as well as Direct Tax. He is active in Writ Courts and has involvement in a few landmark judgments like Pitambra Books Pvt. Ltd. V. Union of India (W.P.C. No. 627 of 2020), and represented Sales Tax Bar Association (Delhi) to resolve GST issues and glitches.