BVSS IBC Group organized a Panel Discussion with Questions and answers on
Topic:
Professional Opportunities in IBC in current scenario – Issues, Challenges and unanswered Questions
Panelists:
Advocate (CS) G.P. Madaan, Corporate Lawyer and Advisor IBC Group
Advocate (CA) Puneet Agrawal, Managing Partner, ALA Legal & Convenor IBC Group
CA Manoj Anand, Insolvency Professional & Co-Convenor IBC Group
CA Sumit Bansal, Insolvency Professional
Advocate (CA) Abhishek Garg, Corporate Lawyer & Co-Convenor IBC Group
The webinar recording may be accessed from here:
https://www.facebook.com/bvssonline/videos/278524156817296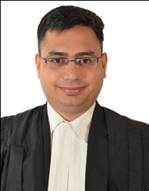 Gaurav is an advocate by profession and has done his B.Com(H) from Hansraj College and LL.B(H) from Faculty of Law, Banaras Hindu University. He has represented clients from Diverse sectors, providing services in Litigation involving Indirect Taxes, IBC, Commercial laws, Direct Taxes, RBI matters. He is active beforewrit Courts, Tribunals and Quasi-Judicial Authorities.