Hon'ble F.M. Mrs. Nirmala Sitharaman unveiled the budget 2021-22 and also issued Finance Bill covering various tax proposals.  Overall, our view is that it is a balanced and a progressive budget presented by the government which will go a long way in the overall development especially the physical and the health infrastructure of our country. However in so far as the tax provisions are concerned, we have noticed excessive regulatory control by the government. More and more powers are being given to the administrative authorities tightening things too much. Power to attach bank accounts at the drop of the hat is making businesses highly vulnerable.
Here is a brief overview of tax proposals pertaining to GST, Customs and CST Act as enumerated in the Finance Bill, 2021 as introduced in Lok Sabha.
For any further discussion, please feel free to contact us.
ALA LEGAL, Advocates and Solicitors
Puneet Agrawal
9791898911
Shuchi Agrawal
9911924948
Gaurav Gupta
7379139145
Puneet is the Managing Editor of the blog, Partner at ALA Legal, Advocates. He has 15+ years of experience in providing tax and legal services. Briefed by various professionals for arguing their matters in the High Court, Puneet is the go to counsel especially for arguing tax and constitutional matters in High Courts of various states across India.
Shuchi is a qualified Chartered Accountant and a law graduate. Shuchi is having more than 6 years of experience in legal and tax advisory services across multiple sectors like real estate, infra, consumer business, etc. Currently, she is working as a Senior Manager in ALA Legal.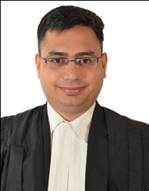 Gaurav is an advocate by profession and has done his B.Com(H) from Hansraj College and LL.B(H) from Faculty of Law, Banaras Hindu University. He has represented clients from Diverse sectors, providing services in Litigation involving Indirect Taxes, IBC, Commercial laws, Direct Taxes, RBI matters. He is active beforewrit Courts, Tribunals and Quasi-Judicial Authorities.