The provisions pertaining to Personal Guarantor under IBC were enforced w.e.f 01.12.2019 by the Ministry of Corporate Affairs.
The issue of insolvency resolution of Personal Guarantors to Corporate Debtors has assumed importance only recently. Further, the issue of constitutionality of provisions of Personal Guarantors in IBC is pending before Hon'ble Supreme Court. In this backdrop, Bhartiya Vitta Salahkar Samiti recently organized a webinar on the topic:
Provisions of IBC relating to Personal Guarantors to Corporate Debtors
Our Managing Partner, Adv. Puneet Agrawal, who is also the Convenor of IBC Group, was one of the expert panelist for the webinar. He spoke on the key issues pertaining to the Insolvency Resolution process for Personal Guarantors to Corporate Debtors.
Other expert panelist were:
Advocate (CS) G.P. Madaan, Corporate Lawyer & Advisor IBC Group
CA Manoj Anand, Insolvency Professional & Co-Convenor IBC Group
Advocate (CA) Abhishek Garg, Corporate Lawyer & Co-Convener, IBC Group
The webinar recording can be accessed on facebook page of BVSS Online:
https://www.facebook.com/bvssonline/videos/1065182400606337
Hope you shall find the webinar useful.
Puneet is the Managing Editor of the blog, Partner at ALA Legal, Advocates. He has 15+ years of experience in providing tax and legal services. Briefed by various professionals for arguing their matters in the High Court, Puneet is the go to counsel especially for arguing tax and constitutional matters in High Courts of various states across India.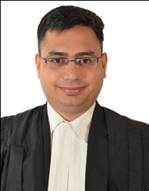 Gaurav is an advocate by profession and has done his B.Com(H) from Hansraj College and LL.B(H) from Faculty of Law, Banaras Hindu University. He has represented clients from Diverse sectors, providing services in Litigation involving Indirect Taxes, IBC, Commercial laws, Direct Taxes, RBI matters. He is active beforewrit Courts, Tribunals and Quasi-Judicial Authorities.